Startup Financing in Times of Corona
---
In March, when corona suddenly turned from a distant curiosity to the historical crisis that turned the whole world upside down, we had just finished the first two weeks of our XPRENEURS program with the startups of the current batch.
A moment ago, we had been sitting together in a mountain hut, drinking beer and looking forward to intensive 3 months together. And now we were forced to close our office at Munich's Ostbahnhof and move our startup accelerator into the virtual world.
Even though digital working is not foreign to us, 100% home office is a completely new experience for us and the startups. We have tried to adapt as quickly as possible, and we are now getting on quite well. In the meantime, I'm glad that getting to know each other personally had still been possible. Because that's what the program lacks the most: the opportunity for uncomplicated exchange. To pass on experience and knowledge in the coffee kitchen, at lunch or over a beer after work. And simply to have fun with like-minded people.
Beyond the Accelerator, however, I am often asked with a worried undertone: How are startups doing in the corona crisis?
How does the corona crisis affect startups?

In an online panel hosted by The Mentoring Club on July 31st, four and a half months into the crisis, I discussed the effects of corona on startups with an international panel of experts. The discussion confirmed two key insights I already mentioned in an earlier version of this post:
The corona crisis affects every startup. I don't know of any startup team that is currently not spending a significant amount of its time dealing with the crisis and its consequences both inside and outside the company.
But: The corona crisis does not affect every startup in the same way.
Factor 1: The startup industry
Decisive for the effects of the corona crisis on the startup is primarily the startup industry. Tourism, event and travel startups now find it much more difficult than before.
Other startups are seizing new opportunities: KINEXON, for example, has developed an application for its sensor technology to effectively implement social distancing within companies. And Custom Surgical has paused their core business to increase brand awareness with a 3D-printable face mask that has been downloaded more than 10,000 times – boosting sales and investor requests as a secondary effect.
In my German blog, I have presented another number of other startups whose solutions have particularly impressed me.
Factor 2: Business models for the time after the crisis
And there are also new opportunities for the time after the crisis, because I am pretty sure that the world will not look the same as before. Take the example of home office: I am sure that this form of work will remain much more widespread than before. And that has implications for the type and extent of mobility and the use of commercial property.
The digitalization of business processes has also received a boost. Startups can take advantage of these opportunities.
Factor 3: Customer availability
At XPRENEURS, I notice that B2B startups in particular are struggling with another challenge in their search for customers: finding the already difficult to convince pilot customer. At present, most companies are very reluctant to make decisions. Who knows how things will look in a few weeks or months? In crisis mode, unfortunately, companies are more likely to pull out red pencils than to sign investments in long-term innovation.
But practical problems in customer acquisition are also emerging. A startup suddenly could not continue talks that had been started: The contact person was on short-time work or in the home office and the fixed-line number of the contact person could no longer be reached.
Factor 4: Implementation of virtual collaboration
Even before the crisis, startups were at the forefront of virtual collaboration. The fact that digital tools and video conferencing can be efficient and save (travel) costs is something that most companies are only now realising – including us at XPRENEURS.
Sure, we know the tools from our startups. But only now have we really seen what is possible. For example, virtual breakfasts and after-work rounds. Or community events such as Powerpoint karaoke and Monday painting sessions. Not quite the same as an exchange over coffee in the office, but definitely not a bad substitute!
Also, as Petra Chequer, Managing Director of the Alliance of Chief Executives, stressed in the Mentorship Club discussion, virtual collaboration opens up chances for startups that are not usually in the geographical focus of startup institutions. In her words: In a Zoom meeting, it really does not matter whether the startup being interviewed for an accelerator or investor hails from Africa or Asia!
Startup financing in the corona crisis

What effects does the corona crisis have on startups looking for an investment or needing financing? I am also currently experiencing this first-hand at XPRENEURS with our startups.
In general, it has suddenly become more difficult to get money for several reasons:
Most VC funds are holding their money together during the crisis. They prefer to use their funds to help their existing startup portfolio through the crisis.  Although they do not proclaim it offensively, anyone who asks VC funds for money these days has pretty bad cards. This also applies to international VC funds. Michael Meirer, former CEO of German Accelerator, confirmed in the Mentorship Club discussion that in Silicon Valley, especially early-stage startups struggle to find investors that are willing to take the high risks during the crisis.
Of the billions of euros in state support announced, nothing has yet reached the startups. Unlike other small businesses, they fall off the grid for normal emergency aid because they cannot show positive balance sheets for the last few years. It is therefore still unclear how the aid is to be allocated. Concrete ideas for support are only available for startups that are currently in the process of an investment round: Here the state fills the gap with co-investments, which I personally think is a good solution.
Many business angels are unsettled by the corona crisis or have even lost money as a result. These business angels also prefer to keep their money together at present.
However, there are also rays of hope:
Startups with strong ideas, business models and teams will manage to convince investors of themselves even in these times. Those who even use the corona crisis to develop new ideas could even profit from the crisis.
Some investors have cash available right now through crisis sales that they want to invest. I know of a few business angels who quickly saved their money from the stock market at the beginning of the corona crisis. Before the money goes to their current account, they are looking for other investments – for example startups.
The very big financial framework conditions have not changed as a result of the corona crisis. There are still a relatively large number of investors who are looking for other sources of return in a zero-interest world and find them in promising startups.
My conclusion on the situation of startups in the corona crisis
My forecast for the situation of startups in the corona crisis and afterwards is therefore differentiated. Some startups that would have made it without corona will fall by the wayside undeservedly. But many startups will be helped by their high adaptability to get through the crisis. I would advise every startup team to be resilient. Keep trying, even if times are more difficult.
This includes taking care of your team first and foremost. As Oliver Trinchera from KINEXON stresses: The corona crisis is deeply stressful for your team members, who worry about their health and job safety. As a founder, focus on giving people confidence by showing human concern. Try to give them a purpose and mission especially now to boost motivation and keep the team together despite social distancing and home office.
Startups should also intensify what they should be doing even in the best of times: Be curious and learn about your counterpart when you are contacting investors for financing. If you are getting three rejections in a row, ask why! Try to learn if it is your business model (then change it!) or, maybe, the lost liquidity of the angel due to the crisis (then keep looking!).
The corona crisis is a time of radical change. And these always bring with them opportunities – keyword "creative destruction". Those who have a strong project will survive. Who knows – maybe the DAX companies in 2030 will be the winning startups in today's crisis?
Crisis-proof information for startups looking for financing
Crisis or no crisis: the rules of startup financing remain the same. And you'll find them in my book "Startup-Finanzierung" (in German).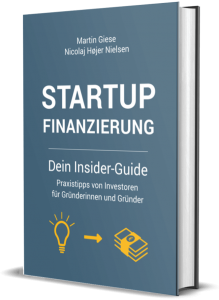 Get Startup-Finanzierung right here in hardcover, softcover, or Kindle eBook: